Meet The Pros: Chad Coombs
Allow me to introduce Chad Coombs
I've never actually met Chad in person, but for some reason he feels like an old friend.
We connected via Instagram pretty early on, and he's been a constant source of inspiration for me both in creating cocktails and photography. He's always down to explain his process and never seems bothered when I message him about a recipe or ask for exact details on an infusion he posted about.
Instagram has been flooded with new "cocktail accounts" of people sharing photos of drinks and just trying to be the next big Insta-celeb in the online cocktail world. Chad really stands out in that he's not doing this for any sort of notoriety. He doesn't do sponsored or branded content; rather he only creates when he feels inspired.
Chad truly has a sincere passion and talent for bartending and hospitality. Hopefully someday I can saddle up to his bar and talk about mango-infused Laphroaig. For now, our little digital convo will have to do…
How did you first get into bartending?
I started bartending almost ten years ago. I quit my job at a camera shop and started in a nightclub. There were over 25 types of flavored vodka on the back bar and maybe 2 or 3 options for every other spirit. Very different back then. Blending different flavored vodkas for shots was the top request. After a couple years of that, I moved into a live music venue and then onto more restaurant/bar set ups.
I've been based up until now in a small city called Saskatoon. Being from a small market, most people scoff at or never heard of, I knew I needed to work harder and educate myself more to be treated as an equal. The global bar community however has proved to be one of the most amazing and welcoming industries I have ever been a part of. I got into this job to help pay my bills and allow me to pursue my artistic passions and now my passion is entirely behind the bar, any bar. Any day is a good day spent behind a bar.
You're obviously very active on Instagram. Has that platform opened up any new opportunities that you otherwise would not have had?
My instagram has been a weird ride. After spending years on social media focused on my art, I never wanted to do that with my bartending.
A fellow bartender did convince me to start a feed in order to help promote a guest spot I was doing. I decided I would also use it to document my recipes I wanted to keep/remember. I never wrote anything down in a book because I didn't feel anything I made warranted it. I tried to make one cocktail everyday for a year and for whatever reason, my feed caught on and people started following. I tried to keep it legit though, no adds, no products I don't actually use or drink. I now try to keep it educational as well as full of worthwhile original recipes.
It's kind of evolved into a mini job on its own but one I am trying to not think about until something pops in mind as opposed to dedicating a full day off to creating content like I used to do. As a result I am posting a lot less now than ever before. However, Instagram has for sure opened up some doors. I've travelled and had people come up to me and show me their cat photos for no reason, then I realized it's because of my feed. I was so confused the first time this happened.
I guess it's allowing my drinks to go places I may never be, which to me is what makes it worthwhile. Living and working in a small city doesn't always allow for a lot of opportunity, so instagram has become an outlet for me to put myself out there to the world and luckily that world has been enjoyable.
Your cats definitely steal the show on your IG. When did you start using them in your posts?
Amaro started it all off by sneaking up onto the table I was shooting cocktails on while I answered the door (they weren't previously allowed on the table at all). I came back and she was perfectly positioned beside the drink and I just slowly grabbed my camera to try and get a shot before she moved. After that I've never kicked either of them off the table. Cats always want to do what they aren't allowed to do so for the next few months, I shot a lot of cocktails cause I knew eventually Amaro and Morty would have zero interest in them. But some days I'll just be having a coffee at the table and she curls around the mug. She's definitely a natural and the only cat like her ever.
You've created a ton of amazing and unique cocktails. Do you have a favorite?
My Legacy cocktail after I die I feel should be my Smoking Monk [recipe below]. It's a cocktail that is just me; it's everything I love about cocktails. It reads like it shouldn't work, it's insanely smooth and enjoyable even to those who wouldn't ever sip it based on the ingredients. Its a back bar cocktail and super simple and minimalistic. I love everything about it.
What aspect of your job do you love the most?
My favorite aspect of bartending is the hosting part of it. I view myself as a stagehand; the guests are all the stars of the show on stage. It is my responsibility to get them the props (aka drinks) they need to play their roles. It's also my responsibility to introduce those who I know will get along and sometimes even steer those clear of those who should remain apart. I also love the opportunity to get to know people during the slower parts of a shift; when you can have a great conversation with a guest about something, ideally learn something from them and vice versa, thats always enjoyable.
Theres also a beautiful calmness when a bar is full of people all enjoying themselves in conversation, the music is the perfect song at the perfect level and the lighting is at the most perfect mood. The bartenders are moving like conductors of the orchestra and everything is in its place and flowing wonderfully. I always steal a second for myself when this is happening, looking the room over to soak it all in.
Photo gear question: what are you shooting with? Lighting set-up details? 📸
I shoot with an original Canon 5D, like the OG first release. Ive been using it since 2006 and honestly amazed it still works. I've shot billboards, magazines, fashion, video/tv stills with it. It will be a sad day when it finally quits.
As per lighting, if outdoors I use only sunlight. If indoors I use an Alien Bee ring flash off-camera. I shot all my medium format film portraiture this way and I honestly feel it's the only way I want to shoot via any type of flash. I really enjoy the simple and minimalistic approach.
What other bartenders really inspire you?
I get inspired by people who are genuine and honest. Chris Enns and Jeff Savage are two bartenders in Vancouver who have both achieved world wide recognition but maintained an honest down to earth personality. They both have also always been extremely supportive to me in this career in many ways.
My friend Shane Beehan in Halifax is one of the most intelligent bartenders I've ever met and leads by example. He's Mr. Hospitality as no one is more hospitable than he is nor do many have such a way with words.
"H" is a hell of a bartender who currently is in Toronto and has taught me the importance of never keeping anything secret and is always teaching. He's brutally honest in the best of ways, and I value his true, honest feedback.
Lauren Mote, Diageos Global Cocktailian has shown me that no one should ever be limited to a set role or by any limits. She's conquered so much and paved her own path more than anyone else I know. She's also insanely talented, super knowledgeable and treats everyone like an old friend. I respect all these people so much for all they have done and do, but even more so because of the people they are while doing it all.
Excluding your current workplace, what bars do you enjoying visiting?
I love a good experience way more than I love any bar. The best times I have had at a bar has always been way more about the people I am with or the interaction with the staff than the building or concept itself.
If I am alone I prefer to go to places in order to see someone I know, other wise I am happy anywhere when with the right people.
I'd say I have a longer list of places I wouldn't go than I do a list of places I love to go. But I do have a solid list of people in every major Canadian city that I will find, where ever they are working in that time to catch up with and enjoy their drinks.
Try Chad's "Smoking Monk" cocktail
Served Sazerac style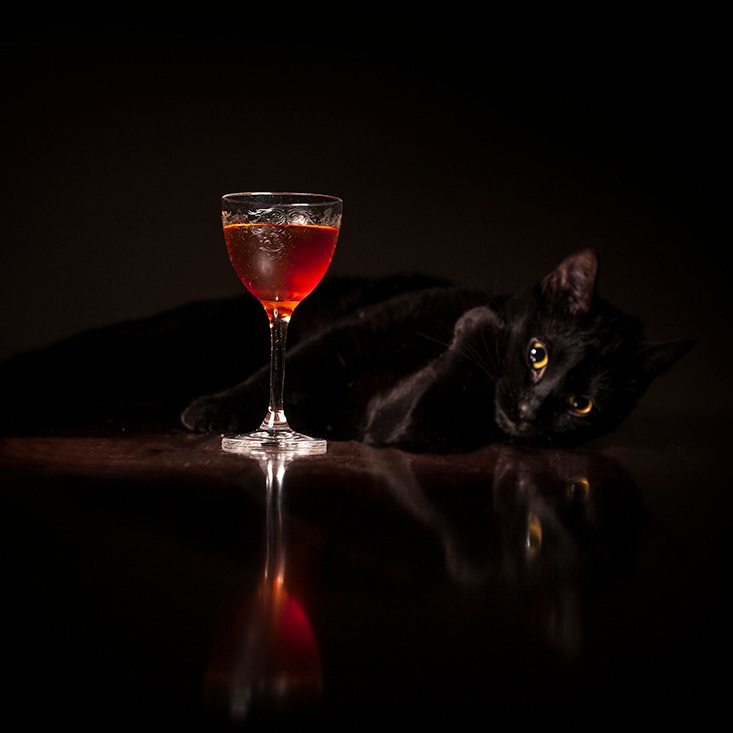 1 oz Laphroaig
1 oz Green Chartreuse
4 dashes Peychauds Bitters
1 Demerara Sugar Cube
Absinthe rinse in the glass
Lemon peel
If you aren't already, be sure to follow Chad's work on Instagram via @coqtale
Other people you should know: