Next Opinion– A Cocktail with Amaro Lucano
This post was made in collaboration with Amaro Lucano. Opinions are my own.
Content intended for those of legal drinking age (21+). Please enjoy responsibly and in moderation.

One of my favorite aspects of cocktail making might sound kind of basic; but I love the process of balancing different flavors and ingredients to create something new. Just swapping out one ingredient or changing the measurements slightly can result in a completely different result. Basically, when it comes to creating cocktails the possibilities are endless… there is just always more to discover and learn. To take that even further, even the individual spirits and liqueurs used in most cocktails all have their own histories and recipes behind them. One such ingredient with a rich history is Amaro Lucano.
This amaro (which is a broad category of Italian bitter liqueurs) first came around way back in 1894 in Pisticci, Italy. The Vena family first began making this bittersweet digestif in the back of their biscuit factory from a blend of carefully selected herbs. It has a strong but delicately balanced flavor with distinctive citrus and floral notes. The Vena family soon gained popularity for their exquisite liqueur and began supplying it to other regions throughout Italy before production was halted by WWII.
After the war, the sons of the company's original founder continued Amaro Lucano. Thanks to their hard work and dedication, the Vena brothers were able to grow Amaro Lucano from a small, local product to a national brand over the next several decades. Despite their growth and success, Amaro Lucano remains faithful to their heritage and high-quality standards. Generations later, Amaro Lucano is still run by the Vena family.
It's exciting to use an ingredient like Amaro Lucano in a cocktail because it adds so much depth and complexity.
It's one ingredient, but like I said, it's made from over 30 different herbs and spices so there are a lot of rich and dynamic flavors present.
When mixing with amari, I usually incorporate it into some sort of stirred, boozy sipper, preferably with whiskey. However I changed it up this time and paired Amaro Lucano with some aged rum in a more refreshing and tropical cocktail.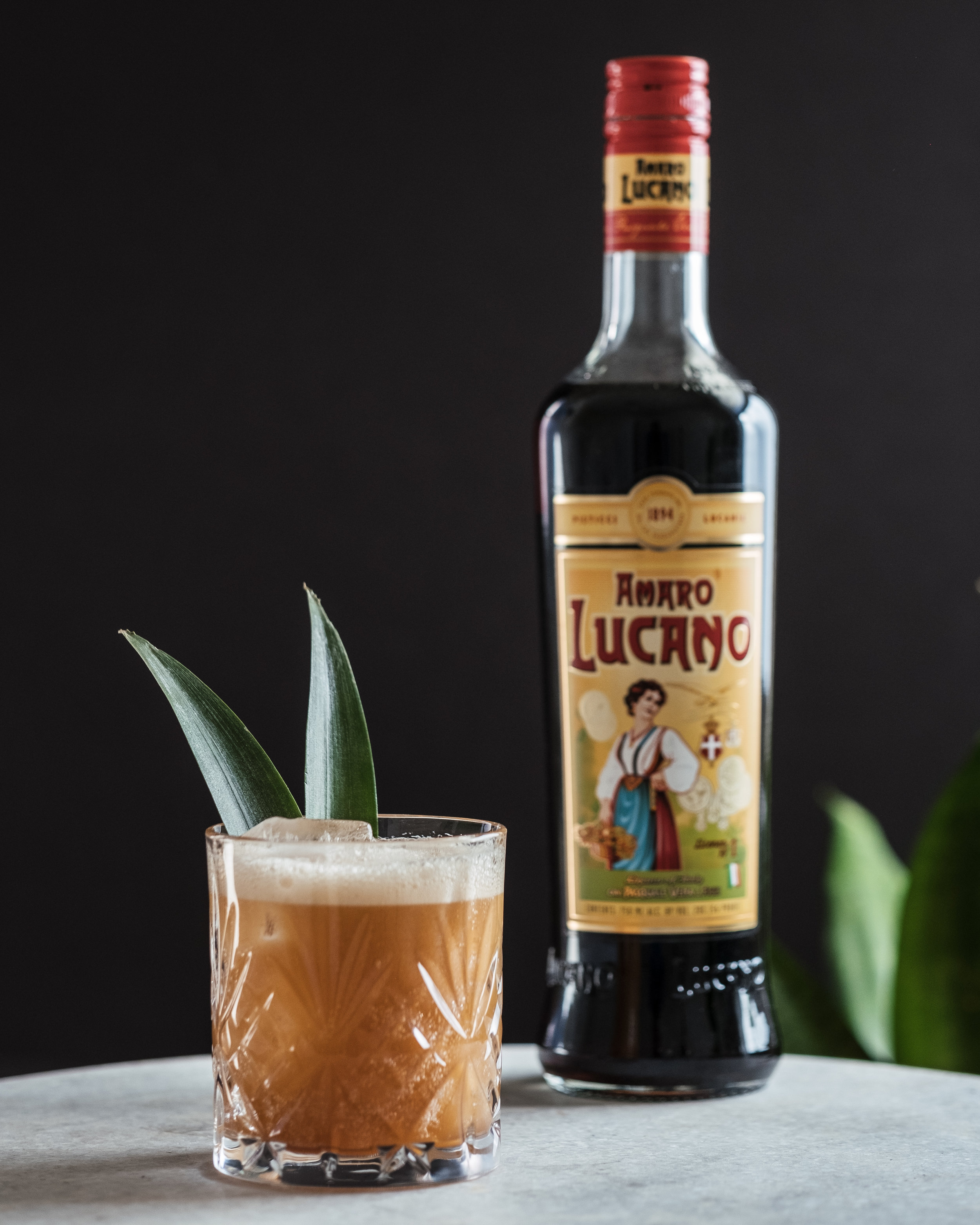 1.5 oz aged rum
1 oz Amaro Lucano
1/2 oz pineapple juice
3/4 oz fresh lime juice
1/2 oz orgeat
instructions:
Combine ingredients in a shaker and shake with ice. Strain out the ice and shake again without ice. This will help the pineapple froth up a bit and create a light foam. Dump into a glass over fresh ice and garnish with pineapple fronds.
As always, let me know if you try out this recipe! If you want to learn more about Amaro Lucano, definitely check out their website!
Try out these other Amaro-based cocktails: